Feature
All aboard! Should courts get ready for the climate whistleblowers?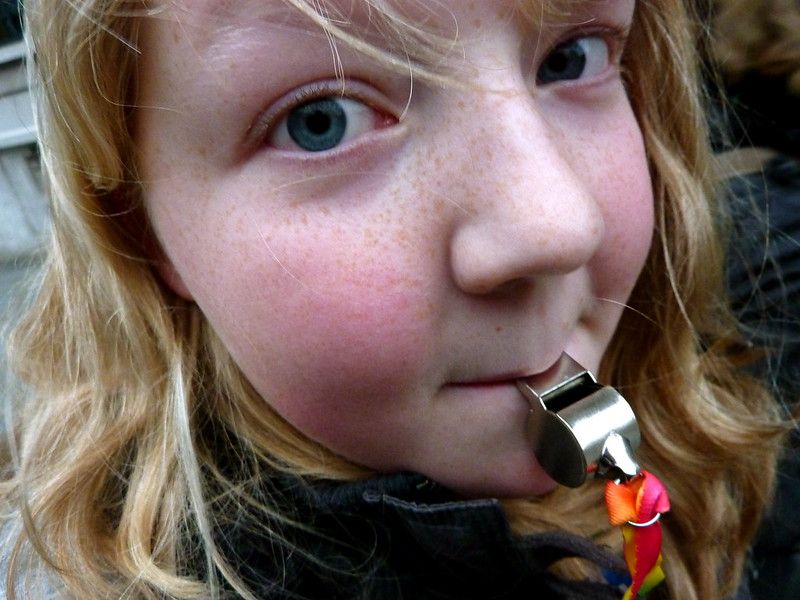 ---
Will there be an increase in people whistleblowing on their employers' climate change impacts, and will people be protected for doing so?
Desiree Fixler made headlines two years ago for exposing corporate greenwashing at Deutsche Bank's asset management arm DWS Group.
In her former job as the group's sustainability officer, she found serious discrepancies between the company's environmental, social and governance (ESG) claims and its internal procedures, and eventually blew the whistle. Her actions led to her being fired but also resulted in investigations of DWS by Germany's financial regulator BaFin and the US Securities and Exchange Commission.
Now chair of non-profit VentureESG, Fixler is actively trying to make the ESG investing sector more transparent and accountable.
Climate quitting

People are increasingly grappling with the environmental ethics of their working lives.
According to research by KPMG, a fifth had turned down job offers because the company's ESG values didn't match their own - a phenomenon dubbed 'climate quitting' - while a survey from Censuswide on behalf of Arriva found most UK adults would consider leaving their current job to pursue a role they perceive as "greener".
Universities are also coming under growing pressure to end recruitment pipelines into the oil, gas and mining industries. Last year, outspoken UN secretary general António Guterres urged new graduates not to take up careers with companies that drive fossil fuel extraction, who he called the "climate wreckers".
In 2021, Extinction Rebellion launched a campaign called 'TruthTeller' which sought to encourage whistleblowing and "foster corporate mutiny".
The activist group urged Shell employees to "jump ship" and offered career coaching sessions for anyone ready to change industries. They even took out online advertising on social media platform LinkedIn, specifically addressed to employees of target companies including Exxon, HSBC and Barclays, inviting staff to share what they know about current or future projects that would harm the environment or worsen the climate crisis.
Its biggest success was probably last year, when Caroline Dennett quit working for Shell after 11 years as a senior safety consultant , accusing it of a "disregard for climate change risks".
Another activist, George Hibberd, left his job as a pilot at EasyJet because he felt frustrated about the airline's unwillingness to tackle climate change. He was fined in court earlier this year, after gluing himself to a road and spraying orange paint on the front of Harrods in London.
But people might still find themselves working for a company that, seen from the inside, doesn't do everything it is supposed to by law or where its public impact does not reflect its internal actions.
"I did what I did because I didn't want to get in trouble with the regulators and authorities"
And many with a burden on their conscience are not in a position to quit, or might feel a duty to tell their employer and hope their concerns will be acted on.
When Fixler talks about her exposure of DWS, she stresses that the role had been her "dream job" and her motivations were not particularly altruistic. "To be honest, I did what I did because I didn't want to get in trouble with the regulators and authorities and I didn't want the firm to get in trouble," she told Forbes.
One problem is that people who whistleblow are likely to face some form of retaliation from employers, or even their whole industry.
Some regulators give people the opportunity to raise concerns without risking their job. The UK's Competition and Markets Authority, for example, which has been investigating a number of green claims and has new powers to fine companies, invites anonymous tips.
And in many countries, people are protected by some form of whistleblowing law.
In the UK, for example, workers who believe their company is doing something where the environment has, is being or is likely to be damaged, and disclosing that is in the public interest, could have a case against their employer if they suffer professional harm. That environmental damage doesn't necessarily have to be in the UK, says Arpita Dutt, a lawyer who represents whistleblowers, suggesting that deforestation in the Amazon might count.
Maria Cronin, business crime lawyer at law firm Peters & Peters, says whistleblowers in the UK who disclose certain climate-related matters to the relevant prescribed regulator "may receive protection under the law" but cautions that the protection is generally quite limited compared with other countries.
Even in the EU, where whistleblowing laws were strengthened in 2019, actual changes are proving slow; the bloc recently sued eight member states for not implementing the rules properly.  
'Nothing changes'

The lack of adequate protection may be one reason why, despite rising public concerns about the environment and high-profile cases such as Fixler's, there has not yet been a chorus of climate-related whistleblowing.
UK charity Protect has advised more than 50,000 whistleblowers, but very few of those concerns are about climate.
Speaking at a talk on climate change and whistleblowing in February, hosted by Doughty Street Chambers, Protect's legal director Sybille Raphael said it can be difficult to know for sure whether something climate-related is actually breaking the law and potential whistleblowers are not always sure they're doing the right thing.
Another problem, said Raphael, is that whistleblowing law just addresses the person raising the alarm; the actual thing they're complaining about is "at best" background information. "Nothing changes."  
Earlier this year, Fixler criticised European regulators for not reaching out to her regarding their investigation into greenwashing in sustainable investment and said regulation would not tackle greenwashing without a greater emphasis on enforcement.
Protect is now working on a guide to help workers blow the whistle on environmental matters, which is due out in the autumn.
The lack of whistleblowing on climate change means the issue has not really been tested at an employment tribunal - at least in the UK.
"What we haven't really had is an understanding of what it means for someone to claim the environment has been, is being or is likely to be damaged. What's the threshold for that?" says Dutt, who is also a trustee of Parrhesia, a charity supporting the human rights of UK whistleblowers.
It would be fairly easy to argue that a scandal on the level of Dieselgate, for example, is in the public interest. But what about a small company that claims to recycle but doesn't? "All of that really remains untested, but we do see this as a ripe area for future litigation," she says.
"Employees are getting access to more real information, to see whether their belief in what's happening on the ground marries with what's going on in how the company is presenting itself"
But Dutt says growing requirements on companies, especially publicly listed ones, to disclose and control their environmental impacts do give employees an opportunity to highlight discrepancies between what their employer says in public and what it's actually doing.
Some of these efforts are at national level. France's novel duty of vigilance law, for example, is being tested in the courts. Germany's corporate due diligence in supply chains law includes a requirement for companies to designate a human rights officer and a clear process for employees, suppliers' workers and other third parties to blow the whistle on any human rights or environmental risks or violations in the company's supply chain.
Meanwhile, the EU is negotiating a new corporate due diligence directive. Cronin says this will likely affect both EU and non-EU companies operating within the EU, "imposing various levels of accountability on companies regarding their environmental and social impact – as well as the impact of their suppliers".
"Slowly, employees are getting access to more real information, to see whether their belief in what's happening on the ground marries with what's going on in how the company is presenting itself," says Dutt. "You can see more avenues for employees to say, 'Actually, that's just false'."
Risk managers

Dutt says companies are missing a trick, because whistleblowers are essentially "risk managers" who can genuinely help their employers avoid public harm, as well as reputational damage and financial loss.
But they should not have to risk their jobs for doing so. "We support the human rights of whistleblowers, we support anonymous whistleblowing, because, although it's a public interest process, we don't think that people should put themselves in the way of harm."
The Chancery Lane Project, which produces model climate 'clauses' companies can use in their contracts, has guidelines on incorporating wider environmental protections into corporate whistleblowing regimes in line with net zero policies and a Net Zero Culture Employment Handbook with a clause on whistleblowing.
At the Doughty Street Chambers talk Fixler acknowledged that whistleblowing has a negative connotation but encouraged people, especially those in sustainability or ESG, to speak up.
"You should not look at your job as, you know, marketing or PR; you're in a risk management function, you're in a compliance function. And if you don't acknowledge the 'G', and that's about speaking up when you see greenwashing or misconduct… you've got a special place in Madeleine [Albright's] hell."
---