Feature
Climate Case Ireland: Three years on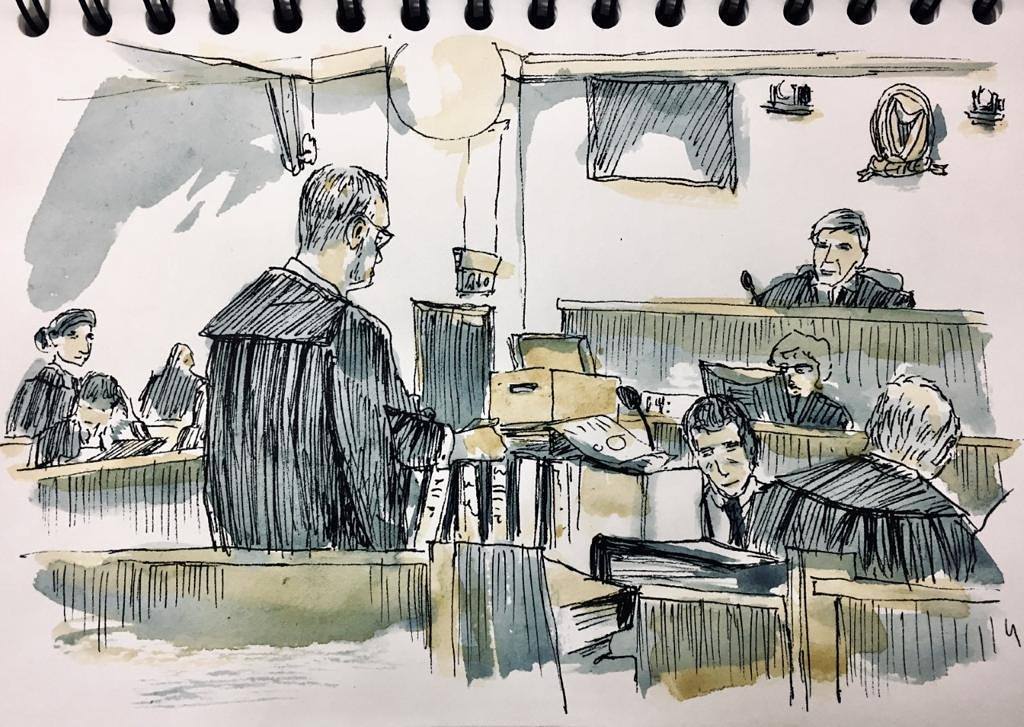 In 2020, an environmental group won a landmark legal battle against the Irish government, when the Supreme Court declared that its emission-cutting plans fell "well short" of what was required to meet its climate commitments and ordered it to replace them with a more ambitious strategy. But three years on, what has happened?
Community law centres are well versed in defending social justice issues and the human rights of ordinary people - and Dublin-based Community Law & Mediation is no exception. But two years ago it extended its remit to set up Ireland's first and only centre for environmental justice.
"We know climate change poses a grave threat to human rights - that's been well documented - and its impacts are going to be felt more by vulnerable and marginalised groups," says CEO Rose Wall, who is also a practicing solicitor.
The centre has seen this already through its legal advice clinics, where lawyers are helping Irish communities affected by both the cause and effect of climate change.
"We've advised individuals and families living in coastal and flood risk areas whose homes are uninsurable and who are actually facing homelessness due to projected sea level rise," says Wall. "We've advised communities who have unequal access to green space and who suffer increased heat stress and poor air quality as a result. We've advised on issues such as the disproportionate proximity of landfill sites and waste incinerators - both contribute to climate change - to areas that are below the national average for deprivation."
But the centre has now become embroiled in a much bigger issue - challenging the government on its climate policy.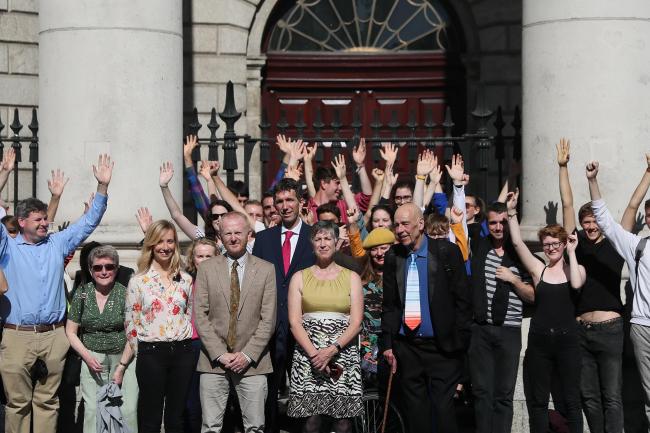 The story goes back to July 2020, when the Irish Supreme Court issued a landmark judgment that Ireland's emission-cutting plans fell "well short" of what was required to meet its climate commitments and must be replaced with a more ambitious strategy.
The law governing Ireland's climate action at the time, the Climate Action and Low Carbon Development Act 2015, required an 80% cut in national emissions by 2050 compared to 1990 levels. In 2017, the government published a National Mitigation Plan explaining how it intended to meet that goal.
But Friends of the Irish Environment (FIE), which brought the lawsuit dubbed Climate Case Ireland, argued that the plan was not fit for purpose because it was not designed to achieve substantial emissions reductions in either the short or medium term.
The lawsuit was inspired by and learned lessons from one of the first successful climate lawsuits against a government, led by Dutch non-profit Urgenda. The Dutch Supreme Court's ruling in 2019 that the Netherlands government must slash its greenhouse gas emissions was a landmark decision that made the country a test case for tougher global climate policies.
The Irish case progressed more quickly than that in the Netherlands, coming to a head in three years instead of six. And it managed to leapfrog the Court of Appeal on the basis that it involved issues of significant public importance.
Whatever happens in the Supreme Court tomo, we want to say a huge thank you now for all the amazing support we've received over the past 3 yrs. We built something special together.😍

Here's a short video capturing some of the highlights along the way (sound on)! Pt 2 in thread👇🏼 pic.twitter.com/EVDpe4mhO9

— Climate Case Ireland (@climatecaseire) July 30, 2020
Legal hurdles

But it faced other legal hurdles; while the Dutch courts were unanimous in upholding the climate case, the Irish High Court dismissed it.
Public support for the Irish case was a key part of its success, says Tony Lowes, director of FIE.
The lawsuit was financed by donations from private patrons, as well as sportswear company Patagonia.
And the High Court hearing was well attended. The Irish Examiner described a packed courtroom, with schoolchildren and elderly people in attendance, and even a toddler bum-shuffling around the room.
"People actually followed the arguments, they cared," says Lowes. "It was a movement - it wasn't just a court case."


Even before the lawsuit had reached its finale, the government appeared to be on the back foot, publishing its first Climate Action Plan in the same month as the High Court hearing.
"That was very interesting," says Clodagh Daly, who was heavily involved in the case, "because that was only two years after the first ever National Mitigation Plan had been published, and the government hadn't planned up until then, or at least hadn't publicly spoken about, publishing a Climate Action Plan. There seemed to be an impetus on government to actually deliver more ambition before we even had a result."
By contrast the subsequent Supreme Court hearing, held during lockdown, was much more subdued.
Initial reaction to its decision was "disbelief", says Lowes.
That was followed by celebrations.
The Supreme Court has quashed the 2017 National Mitigation Plan on the basis that it does not provide enough detail about how the State will reduce greenhouse gas emissions. | https://t.co/Zu8urU3kgL pic.twitter.com/p7UjS6QgOh

— RTÉ News (@rtenews) July 31, 2020

The Supreme Court ruled the National Mitigation Plan should cover the full period remaining to 2050 and must provide a "sufficient level of specificity in the measures identified" so that "a reasonable and interested person could make a judgement both as to whether the plan in question is realistic and as to whether they agree with the policy options for achieving the [national transitional objective] which such a plan specifies".
"While the detail of what is intended to happen in later years may understandably be less complete," it continued, "a compliant plan must be sufficiently specific as to policy over the whole period to 2050."
"The ruling was completely groundbreaking," recalls Daly. "We didn't know following the proceedings what way judges were going to decide so it was really astounding that less than a month later we had a Supreme Court judgment unanimously in our favour. It really felt that justice had been delivered."
A key facet of the Supreme Court decision was its insistence that governments must comply with their own laws. While both the government and the High Court had raised concerns about how the case affected the separation of powers between the judiciary and the executive, the Supreme Court pointed to the fact that emission targets are set in legislation. "What might once have been policy has become law by virtue of the enactment of the 2015 Act," its judgment said.
Daly, who subsequently became manager of Community Law & Mediation's Centre for Environmental Justice, says the decision showed that "it is in fact, the prerogative of the courts to inquire into the adequacy of climate policy and that that's not just the role of parliament".
The first noteable change after the ruling was the revision of Ireland's Climate Action and Low Carbon Development Act in 2021, which had been promised in the first Climate Action Plan. The law was significantly strengthened to introduce legally binding targets including carbon neutrality by 2050 and a requirement to cut emissions by 51% by 2030 compared to 1990 levels. It set five-year rolling carbon budgets and sectoral emission ceilings, and it strengthened the watchdog role of the Climate Change Advisory Council whose evidence was a key part of the final judgment.
It's hard to draw direct links, says Wall, with lobbying and pressure being exerted from many directions to strengthen the country's climate policies. "But I think certainly the Supreme Court decision played a role in that."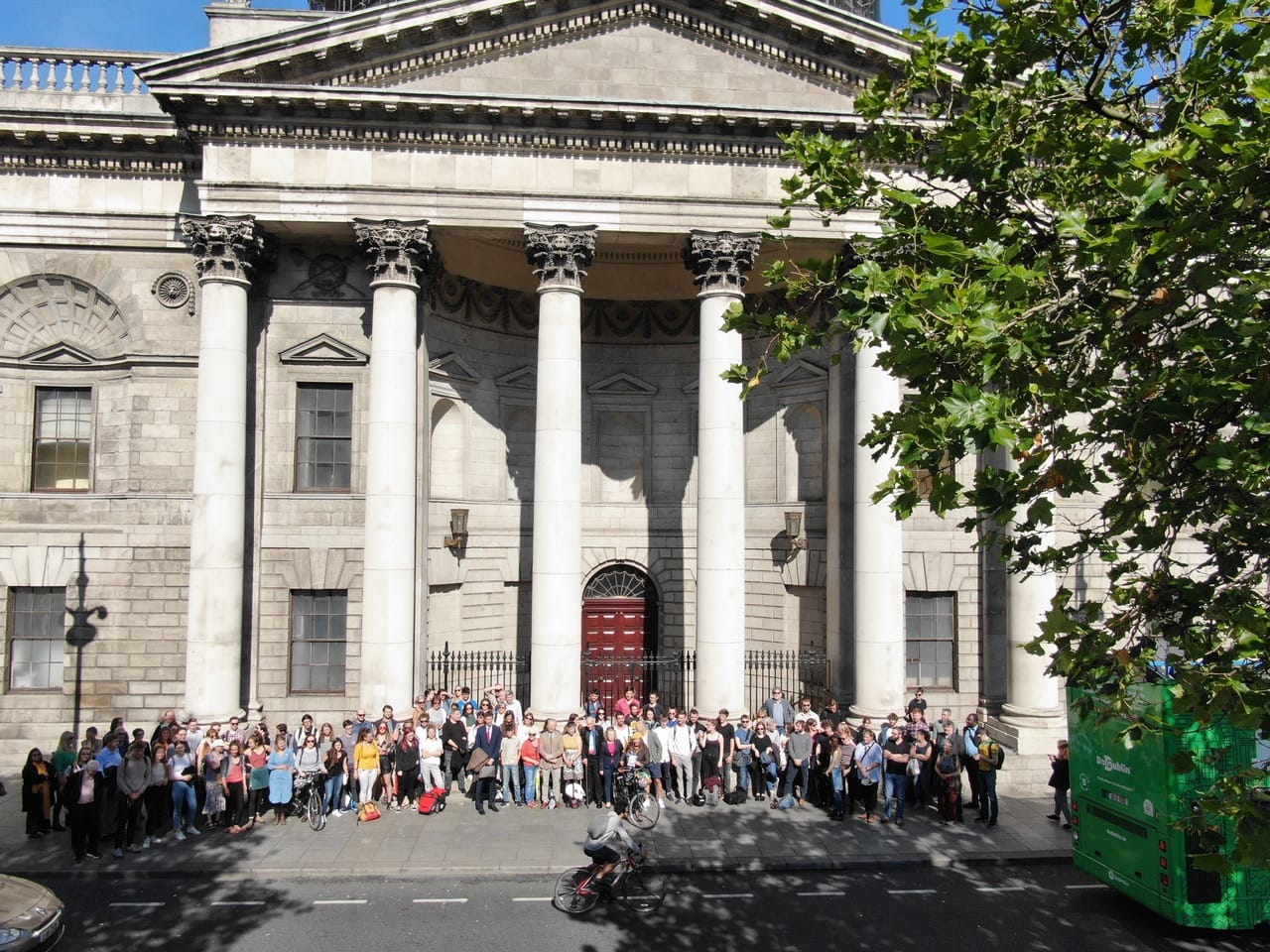 Daly notes that the government tried, in the first draft of the revised law, to remove the section on which the original Supreme Court heavily rested. But that was thwarted after "huge public opposition".  
More generally, the judgment mobilised climate activists in Ireland and legitimised their demands. "It gave people a focal point that they could rally around," says Daly, "and that victory, I think, was energising for the movement."
Lowes adds that the simplicity and clarity of the Supreme Court's judgment helped climate campaigners communicate their message to the wider public.
The decision was not just celebrated in Ireland.
David R Boyd, the UN's special rapporteur on human rights and the environment, called the case "a landmark decision" and said it "sets a precedent for courts around the world to follow".
The judgment was referenced in the German court's decision to uphold the Neubauer case challenging Germany's climate change laws. And campaigners who successfully challenged the UK's Net Zero strategy referred to it as well. (Like the Irish case, the UK one is returning to court).
"It's been really, really exciting to see how the case has become part of the wave of climate litigation where one victory can assist and help the next move on," says Daly.
She adds that it showed developed countries like Ireland that have the capacity to transition and have been promising to deliver climate action for decades "that those are not just political promises - they're legal requirements".
But despite these wins, and the recent refusal of planning permission for a liquefied natural gas terminal on the Shannon estuary, campaigners are not satisfied with the country's overall progress. On 5 September they launched a second lawsuit against the Irish government.
'Enormously frustrating'

Represented by Community Law & Mediation, FIE argues that Ireland's Climate Action Plan 2023 (its latest statutory annual plan) does not fully show how the country will reduce its greenhouse gas emissions to meet its legally binding carbon budgets.
As it stands, the Climate Action Plan lists a set of actions that the country will undertake to cut emissions in various areas, including agriculture, energy and transport. But it does not quantify the emissions reductions expected from those actions. "So there's no way of knowing from looking at the plan whether it complies with the carbon budget programme," says Wall.
They point to the law which requires ministers to ensure the plans are consistent with carbon budgets and to the original Supreme Court ruling that requires a "sufficient level of specificity" in how the budgets are to be met.
"I find this enormously frustrating," says Lowes. "The Supreme Court was so clear, Frank Clarke [the Supreme Court chief justice who issued the original ruling] was so clear about what should happen and they've paid zero attention to it."
Nor is the government in line to meet the goals it has set for itself. Analysis by Ireland's Environmental Protection Agency shows that 47% of the country's carbon budget for 2021-25 has already been used in the first two years, leaving an "extremely challenging" annual reduction of 12.4% if Ireland is to stay within the budget.
"The act makes it clear that when we're not going to achieve our carbon budgets then we have to set out in our Climate Action Plan what we're going to do about that," says Wall, but the government has not done this.
The government, in a statement said it was "not in a position to comment on matters currently before the courts".
But Ireland nailed its colours to the mast by applying to be a third party at the European Court of Human Rights' (ECHR) first climate hearing earlier this year. It was adamant that the questions raised in the case, brought by a group of older women against Switzerland, were matters for national policymakers and judiciaries and the court should not overstep its bounds.
Furthermore, as part of last week's ECHR hearing in a case brought by six young Portuguese people, Ireland was again one of the most vocal of 32 defending states, submitting a detailed annex to their joint statement as well as its individual response. It claims that the risks of climate change are "negligible in comparison to the environmental hazards of a modern city", an attitude the lawyers bringing the case describe as "bordering on climate denial".
FIE says the Irish government's defence in these cases is "astonishing" and "misleading" on the science.
Wall stresses that there is a vital climate justice issue here, which is one reason why her centre was keen to be involved in the national case. "We're concerned that the longer we delay in meeting our legally binding targets… the more difficult it's going to be. And instead of a just transition, where there's an opportunity for climate action measures to help struggling households through, for example, making homes more energy efficient or investing in active and public transport, we're going to have an abrupt, forceful and disorderly transition, creating real risks for underserved communities."
"Just because you went on one court outing doesn't mean you're not going to be back in keeping an eye on things and ensuring accountability in subsequent times."
"What we're looking for is for a quantification of emissions reductions expected from measures and if, when that quantification exercise is carried out, it falls short of our targets, then additional measures need to be introduced. And it's not for us to say in this case, and certainly not for the court to say and nor would they, what those measures should be, but it goes back to our policymakers and to government to ensure that we comply with the law."
Another related issue is that Ireland has yet to publish an updated version of the National Mitigation Plan that was quashed by the Supreme Court (although it has produced a draft). FIE has a seperate ongoing lawsuit against the government over this, while the EU has launched its own infringement proceedings.
A third ongoing FIE case seeks to quash the sectoral emissions ceilings approved by the government last summer.
All those involved in the Climate Action Plan lawsuit stress the importance of transparency and public accountability when it comes to climate policies. "Our highest judge was very clear that with a plan, a reasonable and interested member of the public should be able to determine from reading it, how the government intends to achieve its target and have enough information to decide if the plan is fair and sufficient to deliver what it is committed to doing," says Wall.
The lawsuit was granted leave by the High Court in June and is next listed for 6 November. The plaintiffs are hoping it will be heard relatively quickly.
"It's all well and good to have laws, and we have some good ones - some coming from Europe, some coming from national legislation - but without accountability, without enforcement, they're entirely meaningless," says Wall. "Just because you went on one court outing doesn't mean you're not going to be back in keeping an eye on things and ensuring accountability in subsequent times."